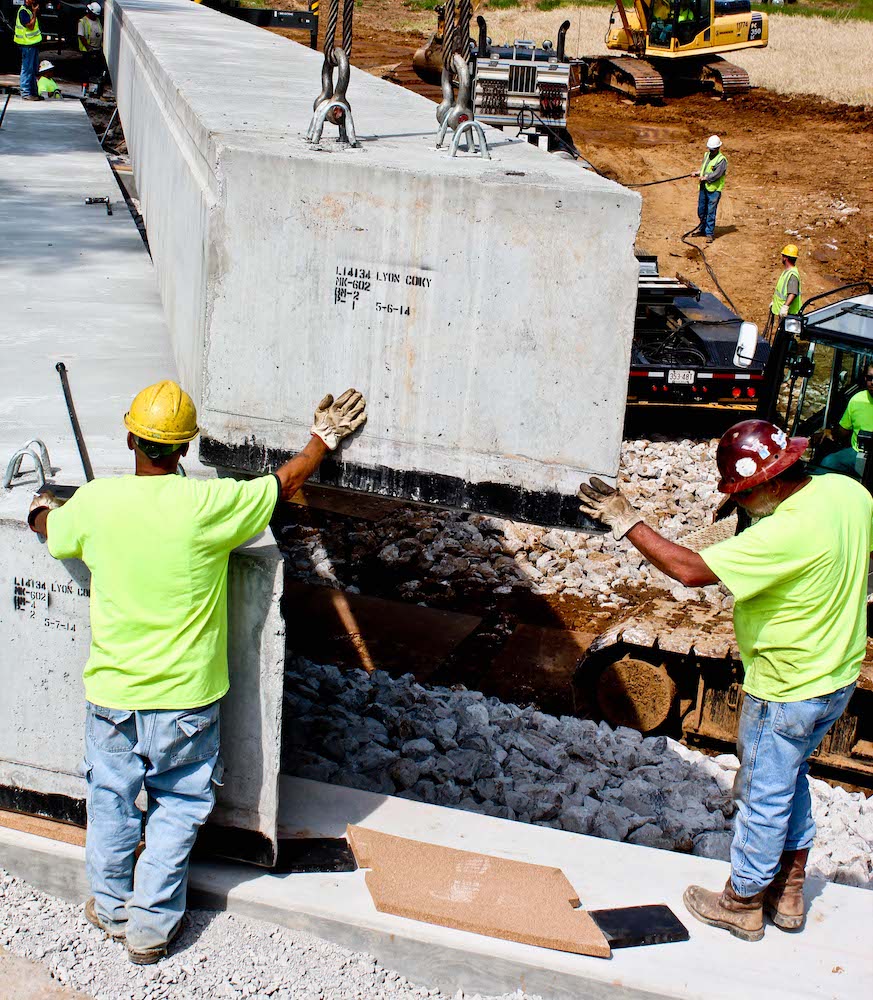 At Jim Smith Contracting, we are always looking for experienced, hard-working individuals to join our team. Our company is an at-will, equal opportunity employer.
If you are interested in employment, please click on the appropriate application below, fill it out completely and then click Submit.  Once the application is received and reviewed by our Human Resource Department, you will be contacted if your credentials meet our employment needs.  We appreciate your Interest in Jim Smith Contracting.
Jim Smith Contracting
1108 Dover Road
Grand Rivers, KY 42045
Jim Smith Contracting, an industry Leading Highway Contractor is seeking a Survey/Design Professional. Responsibilities include plan reading, estimate preparation, machine control file creation, machine control implementation, coordinate verification, control establishment, topographical survey and construction staking. Limited boundary surveying, property research and deed review is required. Candidate should be proficient in some of the following; AutoCAD, Carlson, Terra Model, Trimble Business Center and other various software. Knowledge of GPS and Robotic Total Stations is a requirement. Current survey equipment is predominately Trimble with a variety of heavy machinery in use. Prefer a candidate with PLS, PE, EIT, LSIT or desire to obtain licensure in Kentucky. Position is full time based out of Grand Rivers, KY with limited travel . Transportation and all necessary equipment is provided. Position offers a full selection of benefits including 401k, health insurance, optional ancillary plans and vacation. Salary is based on candidates' education and experience. Qualified candidates should send their resume to info@jscky.com.
---
We are an equal opportunity employer. All applicants will be considered for employment without attention to race, color, religion, sex, sexual orientation, gender identity, national origin, veteran or disability status.
Jim Smith Contracting is looking to hire dependable drivers for tri-axle dump trucks. Drivers are responsible for the safe, proper and efficient completion of assigned duties and operation of the dump truck within company policy and DOT regulations. Travel is regional and drivers report to our Grand Rivers, KY facility each working day. Positions are seasonal, meaning our drivers work normally from April through mid-December. In order to qualify, applicants must have have a Class A or B CDL and must be able to drive manual shift trucks and have a good Motor Vehicle Report.
---
Jim Smith Contracting Co., LLC affords equal employment opportunities to employees and applicants without regard to race, color, religion, sex, gender, pregnancy, age, national origin, disability status, genetic information, protected veteran status, or any other characteristic protected by law.  We encourage women and minority to apply.
Jim Smith Contracting is looking to hire a diesel mechanic.
Duties
Perform all mechanical repairs needed to all types of vehicles/equipment
Make proper decisions to ensure all vehicles/equipment are ready to safely operate when needed
Inspection of truck(s) to verify that there are no DOT infractions and repair as required.
Provide Preventative Maintenance and Federal Inspections of the truck fleet.
Perform light and medium duty repairs using hand and power tools.
Safely work with hazards, such as proximity to moving parts, electrical current and moving objects carrying considerable weight and force.
Responsible for ensuring and maintaining a safe environment through compliance of all Company, Local, State and Federal mandates or programs
Ensure all work assignments are communicated and completed.
Must be able to work unsupervised and make service calls with courtesy and professionalism in a timely manner.
Additional responsibilities & duties as assigned by supervisor.
Requirements
High School Diploma or GED equivalent is preferred.
A minimum of 3 years' experience repairing, maintaining and testing DOT regulated vehicles.
Must be 21 years of age or older.
Class A CDL is a plus
Must understand every system on our vehicles; engines, transmissions, cooling systems, braking systems, electrical systems, drivelines, steering systems, PTO driven systems, hydraulic systems, fuel systems.
Will be responsible for the proper and efficient completion of assigned duties within company policy and Department of Transportation regulations.
Must possess strong communication skills.
Must wear required personal protective equipment (PPE).
Must have the ability to lift 50 pounds, stack/unstack or carry, stand/or stoop for prolonged periods of time, climb, perform repetitive motions and work in a loud and hot environment.
Overtime is required, so must be able to work more than 8 hours per day and Saturdays.
Benefits
Full time Position with Overtime

Hourly rate based on experience

5-6 days per week

All tools are provided by Jim Smith Contracting Co., LLC

If candidate is qualified, there is potential for transportation to be provided.

Health Insurance

401K with company match

Optional Ancillary Plans

Vacation
For more information, please contact Lori Hall at 270-362-8661 or apply online below.
---
We are an equal opportunity employer. All applicants will be considered for employment without attention to race, color, religion, sex, sexual orientation, gender identity, national origin, veteran or disability status.
NOTICE TO ALL JSC EMPLOYEES
Your Rights and Protections Against Surprise Medical Bills
This notification is provided as required by the interim final rule (IFR) of the No Surprises Act, Requirements Related to Surprise Billing; Part I, available at 86 FR 36872, part of the Consolidated Appropriations Act of 2021.